OUR STORY
HOW WE STARTED
It was June 2018 📅. We were all involved in the annual BUDDY Camp 2018: Kataññutā. Out of the blue, Robin had an idea of having a theme song for the camp 🔥 Pauline and Kelvin joined Robin in composing the camp song titled Kataññutā. For the very first time, BUDDY Camp had its very own camp song.

From the positive feedback we received, we were encouraged and driven to compose more original songs 💪 It was there and then where BuddySings! was born. Madeline and Deborah had since then joined us in the journey of creating music 🎹 and performing in front of live audiences.
(ps: There's two more members that joined us. Click Read More to find out)

As we entered 2020, the year of the pandemic😷, physical performances were no longer possible. Thankfully, we took a step into the world of social media and kick started our journey to build our social media presence just in time before the pandemic occurred! With that, the idea of #TunesDay came along; bringing new covers and mash ups every Tuesday to our followers 🤗

However, behind the curtains of #TunesDay that we show to audiences, we have also worked hard to prepare for the release of our original songs! 😍 This time, professionally produced and repackaged as brand new songs to be shared with the whole world 🌏☺️❤️ We plan to release a total of 6 original songs throughout 2021 and 2022 that will be packaged as our first ever EP!

Along this journey, we have also recruited 2 new members, Kai Li and Qi Wei! They were huge fans of ours when we first started back in 2018!🤩 With an addition to our band, we pushed ourselves and worked hard to launch our first single, Kataññuta.
OUR DREAM
Spread the teachings of the Buddha through music
Attract youths to the teachings of the Buddha through relatable and appealing music
Foster fellowship among youths through Buddhist music
Create a new era of Buddhist music
Inspire others to contribute to the Buddhist community
MEET THE BAND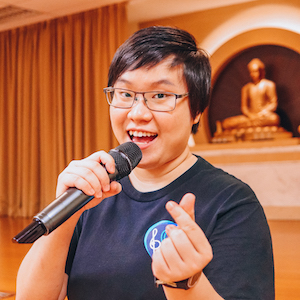 🎤
Pauline Loo
Co-Founder | Co-Composer | Vocalist | Guitarist
"I feel very blessed that I can use my singing voice to do something meaningful by inspiring others. Being a part of BuddySings! has allowed me to stay connected to the Dhamma and the Buddhist community."
🎻
Deborah Lee
Violinist | Vocalist | Pianist
"I have always love to play music of any kind, in orchestras, bands & concerts. But a buddhist music group? This is a first. I will take this opportunity to enjoy spreading Dhamma through music."
🥁
Madeline Yee
Cajón Drummer | Vocalist | Guitarist
"My motto in life is to do what makes you happy. Spreading the Dhamma through music is definitely one of them!"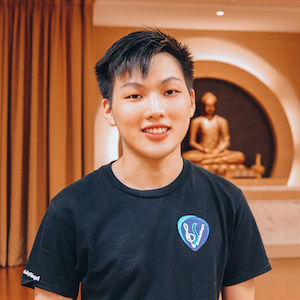 🎹
Kelvin Chan
Co-Founder | Co-Composer | Guitarist | Pianist
"Music has always been a source of inspiration for me. What better way to inspire others with the Dhamma than through music."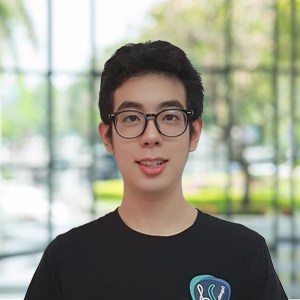 🎤
Bryan Phang
Host | Songwriter | Vlogger
🎤
Qi Wei Lim
Vocalist | Pianist
"I have always love the idea of spreading the Dhamma through music. Being part of it now is just a dream come true!"
🎤
Kai Li Chiam
Vocalist | Guitarist | Pianist
"Music has always been my source of comfort and peace. To be given the opportunity to spread the Dhamma through music is a once in a lifetime golden ticket for me to reflect the comfort I found through music and the Dhamma to all."